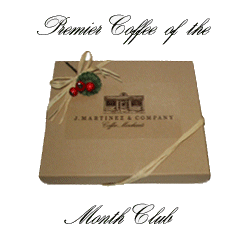 The season of giving is upon us, and with it, the hunt for the perfect gift for family and friends begins. Make your life easier this holiday season by giving the coffee lovers on your list a J. Martinez & Company Coffee of the Month Membership. It makes an excellent gift for someone you wish to introduce to the gourmet coffee experience as well. Both coffee novices and connoisseurs are sure to enjoy this gift that they can savor not only for the holidays but all throughout the year.
Deluxe Coffee of the Month Club
Every month for one whole year, your gift recipient will get a chance to sample our entire gourmet coffee selection (except for Jamaica Blue Mountain). Monthly shipments of three and a half pounds of freshly roasted coffee will arrive regularly on their doorstep, ready to be ground and brewed according to their taste. We offer a choice of medium, dark or French roast.
In lieu of the Jamaica Blue Mountain coffee variety, members of the Deluxe Coffee of the Month Club will receive a shipment of the Jamaica High Mountain Supreme coffee from the Baronhall Estate.
Premier Coffee of the Month Club
Members receive the same amount of gourmet specialty coffee each month, including the exclusive Blue Mountain coffee from the Wallenford Estate. Included in your recipient's coffee experience is a shipment of 100 percent pure Hawaiian Kona Extra Fancy coffee from the Honaunau Estates. This Hawaii Kona coffee is a much sought-after variety that is guaranteed to please your recipient with its rich, bold flavor and surprisingly smooth texture.
The Ideal Gift
You won't go wrong when you give a friend or family member a J. Martinez Coffee of the Month membership as a holiday gift. Our estate coffee comes from some of the finest and most exclusive coffee plantations in the world. Monthly shipments of our different coffee varieties are sure to delight and enchant your recipients throughout the year.
Membership to our gourmet coffee club makes a wonderful corporate gift as well. Show a special supplier or client that you appreciate the professional relationship that you have with them with a gift that they can enjoy for more than just one day. It's a great way to keep your company and business at the top of their mind for the next 365 days.
Here at J. Martinez & Company, we make coffee drinking and holiday gift-giving a pleasurable experience. Give our Coffee of the Month Club as a gift this holiday season and stressful holiday shopping days will become nothing more than a distant memory.