Helen's Tropical Exotics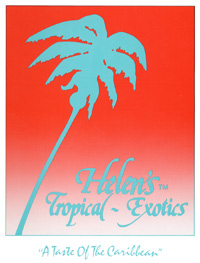 Helen Willinsky is a gifted culinary professional whose creativity is expressed through food. She seamlessly blends tropical fruits and vegetables with North American ingredients to create one-of-a-kind tastes that are delicious, interesting and -- equally important -- perfectly balanced.
Born in Jamaica, a former British colony, she thought that British cooking was "pretty dull" and at an early age developed an interest in the tropical fruits and vegetables used in Jamaica's flavourful cuisine. After completing high school in Kingston, Jamaica Helen trained at the Ecole Hotelier in Lausanne, Switzerland.
She spent several years cooking professionally in Europe before returning home. In 1978 she emigrated to the United States bringing the secrets of the island recipes with her and founded Helen's Tropical Exotics.