Gourmet Espresso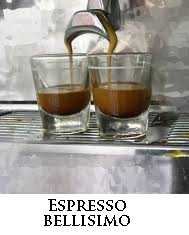 A "Real" Espresso Coffee
Shortly after J. Martinez & Company was opened in 1988, customers who loved our single-estate coffees but longed for a "real" espresso asked us to create a new blend. Espresso coffee was not popular in America at that time, and the Italian blends available in the U.S. all used robusta beans, lower in quality and containing a higher caffeine content than arabica coffee beans.
In response, J. Martinez & Company created Don Giovanni's Espresso Bellissimo, a blend of nine different select arabica coffees. The result has all the hallmarks of a classic espresso – aroma, taste, body, and crema. This was the first blended coffee available from J. Martinez & Company, though we have since added other specialty blends. In 2005, the quality of our gourmet espresso was confirmed when it was awarded a Grand Gold Medal by the International Institute for Quality Selections at the 2005 Monde Selection competition.
↓ Jump to products ↓
Enjoying Fresh Espresso Coffee at Home
Although technically any type of coffee can be made into espresso if it is properly ground, most espresso is made from blends, with the particular type of coffee used varying according to personal and regional taste. One of the most important factors that will determine the quality of the espresso is the freshness of the beans. A few weeks after the roasting date, even the best coffee beans will become stale and decline in quality. J. Martinez & Company coffees, including our award-winning gourmet espresso, are left unroasted until the day of shipment, to ensure the highest possible level of freshness.
There are many different home espresso machines available which can make a good cup of espresso. J. Martinez & Company offers a selection of Saeco espresso machines which you can order directly from us to begin enjoying our gourmet espresso at home.

Decaffeinated Coffees
For those who prefer decaffeinated coffee, we offer nine coffees decaffeinated by the SWISS WATER® process.
The SWISS WATER® logo next to the product description indicates that it is available decaffeinated.