Company Information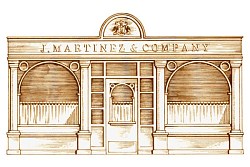 3 9 3 4 - 3 9 3 6 G R E E N I N D U S T R I A L W A Y, A T L A N T A, G E O R G I A 3 0 3 4 1 - 1 9 1 4, U. S. A
Telephone (404) 231-5465 (800) 642-5282 Fax (404) 233-6528
E-Mail Us
Business Hours: Monday through Friday – 9:00 AM to 5:00 PM EST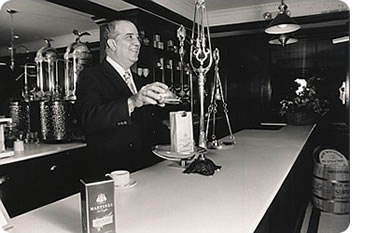 1988 - John A. Martinez introduces single-estate coffees to consumers. Drawing on his experience as a grower in his native Jamaica, John Martinez came up with a unique marketing concept -- offering premium "estate" coffees. Up until 1988, connoisseurs of coffee in North America and Europe had to be satisfied with knowing the country of origin and, perhaps, the region within the country where the coffee was grown. Martinez identifies estates where a combination of soil, climate, topography and cultural practices gives the beans a taste and aroma as distinctive as those of a fine burgundy. J. Martinez & Company serves as a 'negociant' to the coffee estates it selects in the same way that 'negociants' represent the top wine growers of France. Buying the pick of their crop and importing directly from the estates overseas, Martinez ensures the integrity of each estate's production.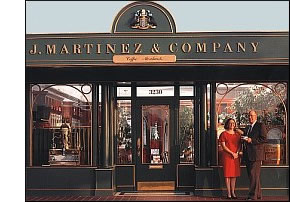 On November 30th, 1988 John A Martinez and his wife Melanie established J. Martinez & Company, Coffee Merchants. The original location on Atlanta's historic Peachtree Road was a turn-of-the-century emporium which featured on-site coffee roasting. From there, top quality beans were shipped daily to mail-order customers nationally. Stressing "freshness", John Martinez makes another innovation -- roasting only on the day of shipment. To ensure that customers receive their coffee in optimum condition, coffee is roasted in small batches on the day of shipment. This J. Martinez & Company 'first' was swiftly immitated by other mail-order suppliers.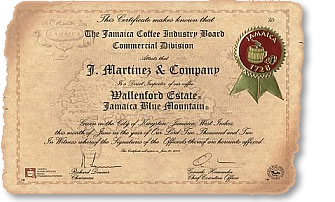 Since our inception in 1988, J. Martinez & Company has been certified by the Coffee Industry Board of Jamaica as an Approved Importer of Jamaica Blue Mountain coffee. The Coffee Industry Board is charged with maintaining both the quality and the reputation of Jamaica's world famous coffee. The Certification of Approved Importers is part of a system of controls which are rigorously enforced by the C.I.B. in an effort to ensure the product gets to the end-user in the consumer nation intact. We are one of six Approved Importers in the United States.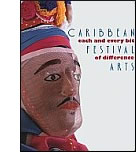 J. Martinez & Company is invited to participate and provide Caribbean coffees and materials illustrating coffee cultivation in the West Indies as part fo the Caribbean Festival Arts exhibit held at the Smithsonian Institute's S. Dillon Ripley Center between June 3, 1989 and February 15, 1990. J. Martinez & Company's Caribbean Coffees are offered for sale in the museum store.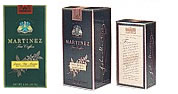 1990 - J. Martinez & Company's packaging garners "Excellence Award" in the 40th annual competition of the National Paperbox & Packaging Association. The packaging was designed by David Taylor Design Consultants of London, England, who had deployed their creative skills successfully for clients like Cartier, Dunhill and Seagrams. This was the first award won by J. Martinez & Company's luxury packaging.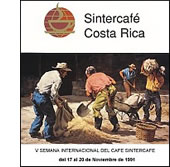 When John Martinez introduced "estate" coffees, growers were granted recognition to growers by naming their estates. In 1991 he was invited by Costa Rica's respected national authority, the Instituto del Cafe, to address their 5th International Coffee Week. Sintercafe is a prestigious forum attended by both producers and buyers which forms part of the international coffee calendar. John Martinez presented his unique marketing concept -- estate coffees -- and he called for stricter labelling regulations to protect the integrity of the world's premium coffees.
Follow us on Facebook
J. Martinez & Company - World's Finest Coffees
|