Yoku Moku Cookies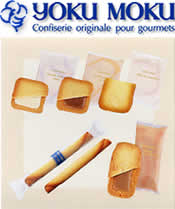 Yoku Moku butter cookies are crisp, light, delicately flavoured and very fresh: made with high-quality ingredients they contain no additives, preservatives or chemicals. Only rarely does one come across a product where every component has been assembled with the utmost care and meticulous attention to detail. Everything has been designed to give pleasure and function flawlessly; from the tear strip on each individually wrapped cookie which requires only a gentle tug to open, to the beautifully lacquered tins with their neatly laid out interiors.

Yoku Moku was named for a small village in Sweden called Jokkmokk where the Company founder, Noriichi Fujinawa, first tasted European-style butter cookies. Jokkmokk (which means "where the river bends" in Sami, the language of the indigenous people of the region) is situated next to a winding river, five hundred miles north of Stockholm on the Arctic Circle. When he returned to Japan, Mr. Fujinawa, a chocolatier by trade, created his own recipes for butter cookies. Fresh ingredients are delivered daily to ensure consistent, high quality.
There are no products matching the selection.