Cafe Hawelka - Vienna
January 15, 2013


Company Newsletter
Famous Café Series
---
Café Hawelka - Vienna
Vienna is famous for coffee and cafes (see our newsletter about the historic Blue Bottle Cafe, but there are some standouts, and the Café Hawelka is unanimously on every top ten list of cafes. Like every institution that has character, this café has history.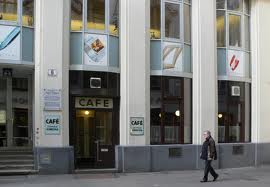 Started in 1939 by Leopold Hawelka and his wife Josefine, it closed within a year with the draft of Leopold to the Russian front. He survived to reopen in 1945, in the largely unscathed building where it started. In the misery of the post-war period they catered to rich and poor, as well as a very international clientele. Few places had heat in the ruined city, and as soon as the smoke could be seen coming from the building's chimney displaced Viennese and others would appear to just warm up, often over a single, free, glass of water.
Displaced war refugees from around Europe haunted the café including impoverished royalty who survived by selling the few possessions, carpets, paintings, jewelry, they could smuggle past the Soviets or the Nazis. The Prince of Liechtenstein held court in the small smoky café of twenty-seven tables. The black market was in full swing in these lean times, and the Hawelka's themselves traded in it.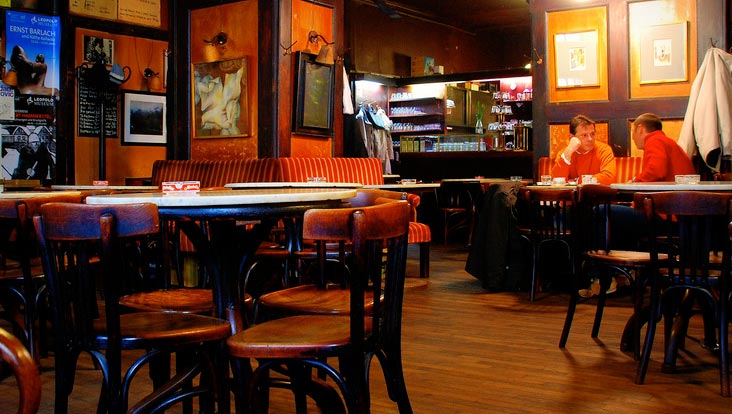 As Vienna recovered in the 1950's, and continuing through the 1970's, the café became the haunt of Viennese artists, especially those of the Fantastic Realism movement, a kind of Surrealism meets the Old Masters, including Ernst Fuchs and Wolfgang Hutter. The literary set included writers HC Artman and Konrad Bayer. Actors Oskar Werner (Jules of Jules and Jim) and Helmut Qualtinger frequented the café and Arthur Miller and Henry Miller were customers. Andy Warhol had coffee here.
The same, if slightly shabbier, tuxedo-ed waiters still serve coffee and the Hawelka's famous Buchteln, a type of Bohemian dumpling. The cigarette smoke is gone, but the atmosphere provided by of 70 years of history, art traded in kind, and the Hawelka family itself, remains.
Josefine died in 2005, aged 95. In 2011 Leopold Hawelka died, aged 100, but the café lives on, still family-run and basically unchanged from its beginnings in 1939.
---