December 2011 No 2 - Lucia in Sweden and Yoku Moku
Winter Solstice, Lucia and Yoku Moku


Company Newsletter
December 8, 2011
---
Lucia in Sweden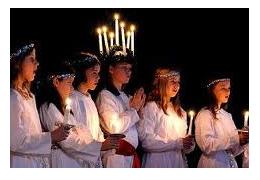 Almost all cultures in the Northern Hemisphere have a holiday in December that centers around the winter solstice. As Europe was Christianized pagan customs were often not eliminated, but incorporated into new Christian traditions. Sweden (along with other Scandinavian countries) celebrates Lucia or St. Lucia (the Sicilian saint), on December 13. The holiday traditional has a girl, often the oldest daughter in the family, dressed in white with a red sash who has candles in her hair. She brings coffee and lussekat, a saffron bun, to her parents. This is done while singing a Lucia song, usually the Neopolitan melody "Santa Lucia", but with Swedish lyrics. In Sweden there are processions in many towns with a girl selected to be Lucia parading in front.
We bring up this particular holiday because it is the only one where coffee is mentioned as part of the ritual. After hours of research about other winter solstice celebration including Saturnalia, Brumalia, Lohri, Wren Day, Midwinterblot, and Yule, none mention coffee, though most include plenty of alcohol and feasting. The coffee may be important on Lucia because many Swedes begin the celebrations the evening before, and they may last all night. If you plan to celebrate Lucia this year, make sure you have some good coffee on hand, preferably some J. Martinez & Company coffee, to wake up with in the morning. Some Jamaica Blue Mountain would go well with the Lussekatt, or, if you have not tried any, our Private Selection Breakfast Blend is also an excellent coffee. For the inexperienced celebrating Lucia we recommend battery-powered candles for the crown.
Many of you are probably wondering, why is Lucia on December 13th when the solstice falls between the 21st and 23rd of December? Under the earlier Julian Calendar the solstice was originally on December 25th (it is not a coincidence that Christmas is celebrated that day), but it lost 3 days every four centuries so the solstice arrived as early as the 12th of December in the 15th century. The new Gregorian calendar dropped 10 days (but not 13!) so that the calendar returned more or less to its original timing. It is quite likely that St. Lucia day was originally set on the solstice late during the era of the Julian Calendar, and remained on the 13th when the calendar changed.
Click here or on the Lussekatt picture to get a recipe
---
Sweden and Yoku Moku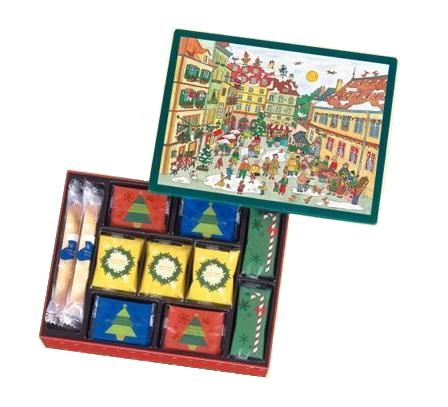 The Swedish theme of this particular newsletter allows us to smoothly move from the educational to the commercial. It is in Sweden, in the village of Jokkmokk, that Noriichi Fujinawa first tasted European butter cookies. Inspired, when he returned to Japan he created his own recipe on which he bases his fabulous Yoku Moku treats. The Cinq Delices tins offer a variety of delectable butter cookie treats. The Cigares, whether Cafe au Lait or Cigare au Chocolat make a delicious after dinner treat with coffee.
The two sizes of Cinq Delice also come in a Christmas tin this time of year and make a great gift, especially if combined with one of our coffees! Or keep the cookies for yourself and start your own holiday tradition.
---