Kirk Parks Pastry Chef and Partner - Rathbun's Restaurants
October 4, 2013


Company Newsletter
Chef Series – Kirk Parks
---
Kirk Parks - Pastry Chef and Partner of the Rathbun Restaurants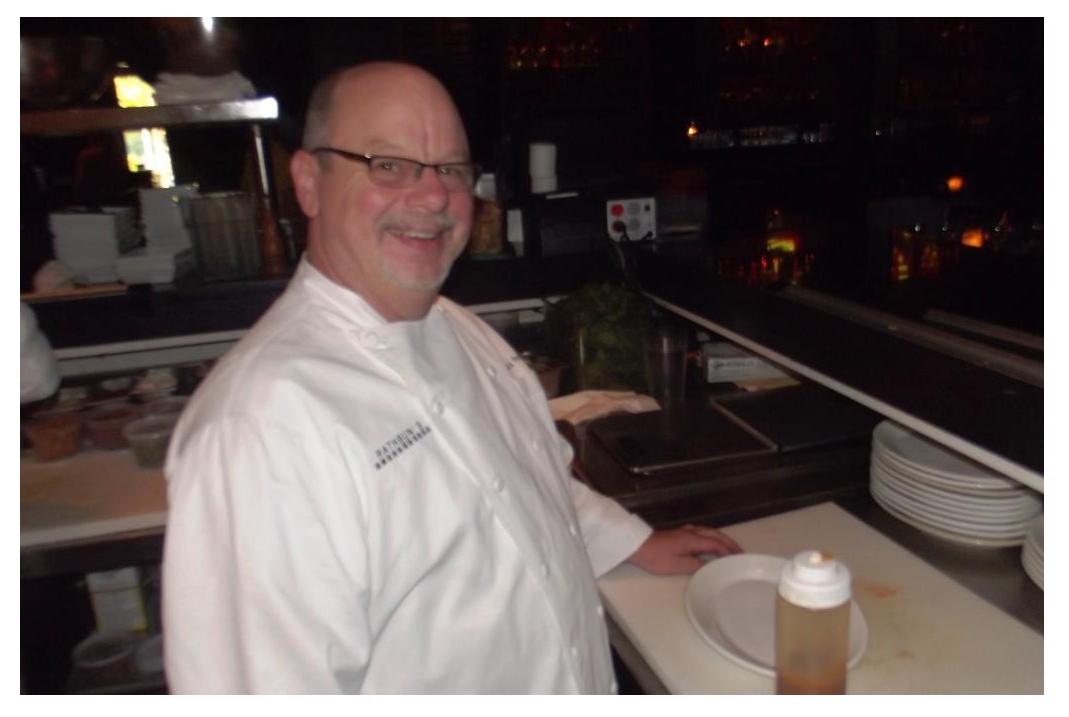 Pastry chef is not the first option that comes to mind when one is laid off from a steel mill. Being a steelworker was one of the better jobs in Sterling, Illinois, especially if you did not see college as a real option. But losing that job, plus a love of cooking, put Kirk Parks onto the path that led to his role as Pastry Chef and Partner in the expanding collection of Rathbun restaurants, which now includes Rathbun's, Kevin Rathbun's Steak, and KR Steakbar.
Kirk speaks fondly of his work at the mill. The mill had a couple of the largest electric arc furnaces in the world. All kinds of steel product were produced on large industrial equipment. NSWC had used one of the last steam engines in North America to move scrap to the furnaces (it was retired in 1980). Kirk talks about chipping slag out of the still quite warm furnace with a jackhammer, "The union rules allowed you only five minutes in the furnace, then thirty minutes outside, it was still so hot in there". This is guy stuff, big industrial stuff that makes us say "Wow".
But the demise of the industry gave Kirk the opportunity to pursue his passion – cooking. He had worked food service during high school, but once out of school the higher wages of the mill beckoned, so he signed on. Five years later he was back in the restaurant business, locally, in a "meat and three" restaurant. It wasn't long before he was running the restaurant.
But what served as fine dining in Sterling was nowhere close to where he is now. The step up started with some prodding from his sister who lived in Houston. She even sent him a plane ticket, telling him that if he was going to pursue cooking he needed to come to the big city. He found himself in Brennan's of Houston. Brennans was the fanciest restaurant Kirk had ever seen, a big leap from the "fine" dining around Sterling, Illinois. This was where he knew he wanted to work.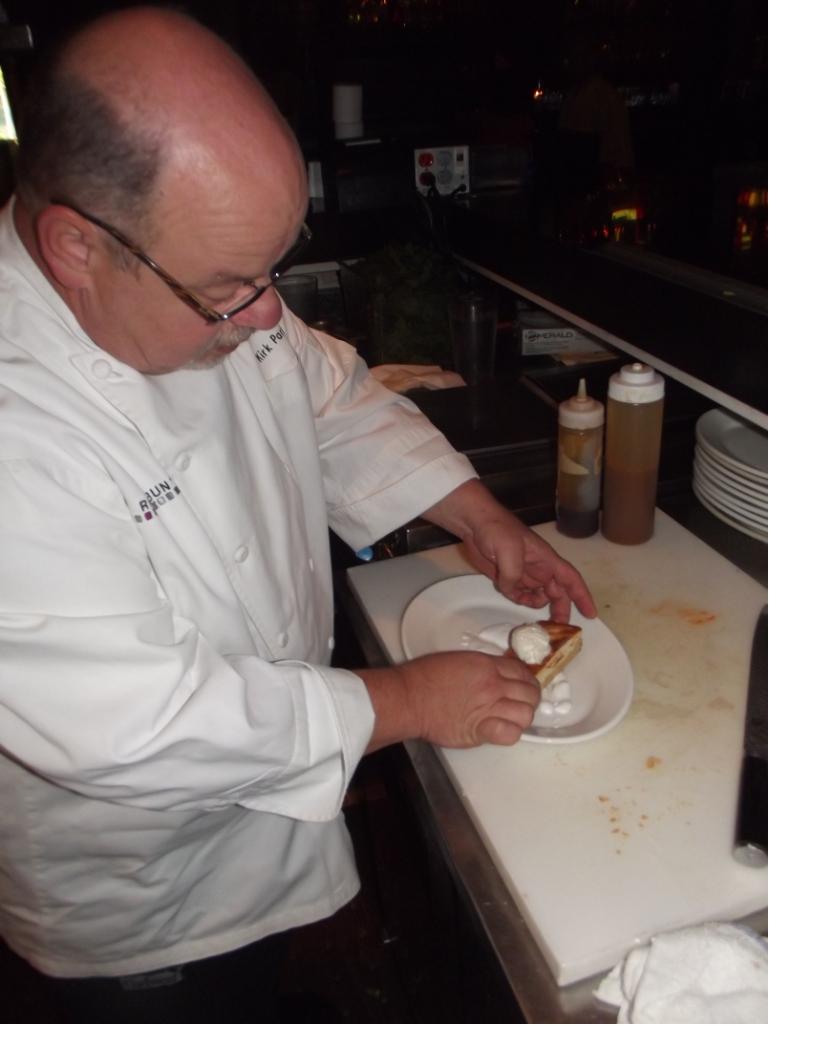 Kirk started at the bottom as a food runner, but managed to make a connection that would speed his trajectory into cooking. He was making coffee in a very large coffee urn when Kevin Rathbun, who was then the sous chef, passed by and asked, "Who are you?." "I am the guy making your coffee today" Kirk responded. Not a particularly auspicious beginning to an enduring partnership.
Within a couple weeks Kirk convinced Kevin to go out for some beer. "All we talked about was food". Kevin taught Kirk a lot about herbs, sauces, stocks. This was the beginning of a partnership, though not formal, would bring them together at Baby Routh, in Dallas, and at later at Nava, in Atlanta.
It was at Baby Routh that Kirk began his career as a pastry chef. It was his passion, and also, as he put it, "I wanted to stay with Mr Rathbun… and many great chefs have their sidekick pastry chef". Though he started in the kitchen, after some wrangling with Kevin, he finally got the keys to the pastry kitchen after the then pastry chef left. There would be no turning back.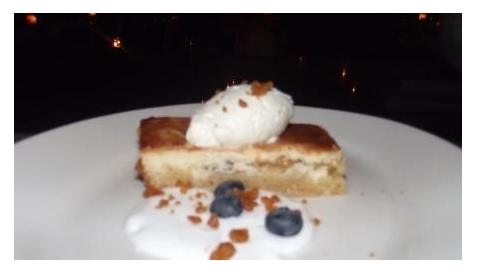 While Kirk did become Kevin's partner it was not before a couple of detours. He spent six months in Calistoga, in Napa Valley, California, as a pastry chef and cook. Bored with the quiet nightlife he left to become the pastry chef at Jumbi Bay Resort in Antigua, in the Caribbean. This renovated sugar cane plantation on a private 300 acre island caters to a primarily European clientele, offering a very quiet retreat, luxurious but without the noisy motorized amenities one might find at another resort.
There is a ten day minimum stay, and the challenge for Kirk was to come up with five breakfast pastries and five lunch desserts each day for the ten days without repeating a dish. That combined with having to order everything two to three months in advance so it could be consolidated and shipped from the mainland made for a challenging position.
In the meantime though, Kevin Rathbun was opening a new Southwestern style restaurant for the Buckhead Life Group in Atlanta called Nava. He started recruiting Kirk, based on his experience with Baby Routh. And that is how the two got back together in the kitchen.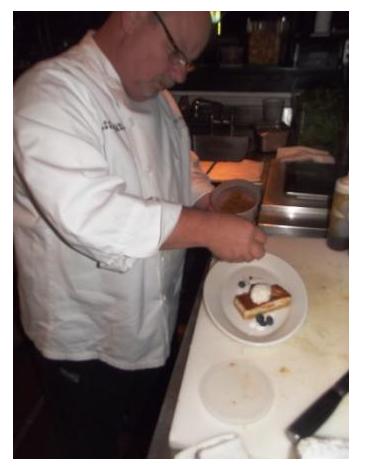 It was at Nava's opening in 1996 that Kirk met John Martinez (père). Kirk, having just spent a year in the Caribbean, had a lot of stories to exchange with the Jamaica native. Shortly thereafter Kirk started purchasing and drinking J. Martinez coffee at home.
From that experience at Nava, Kevin Rathbun and Kirk decided that their restaurants would all carry J. Martinez coffee. We at J. Martinez & Company are very grateful for that decision, and we choose and roast our coffee to the same high standards that Kirk and Rathbun's maintain in their restaurants.
Kirk also has been drinking J. Martinez coffee at home since 1996. Thank you, Kirk!
---
Special thanks to Stephanie Jolluck of
Coleccion Luna
for her help with this article.