March 2011 - Espresso
March Newsletter


Company Newsletter
24 March, 2011
---
Jamaica Blue Mountain History, Espresso (essentially the same information as in this page), and we have video, with more to come.


---
| | |
| --- | --- |
| | We also have a Facebook fan page. Please visit us, like us, and feel free to leave comments. |
---
The Story of Espresso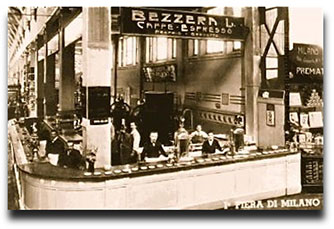 Espresso was invented in Italy at the beginning of the 20th century by Luigi Bezzera of Milan. He devised a method of making coffee with steam pressure. This method provided a quick way of making a single cup of coffee, "espressly" for one. The original Italian may have mean "pressed coffee", but the meaning also had the connotation of speed.

This new method of making coffee had a disadvantage in that the steam gave a burnt taste to the coffee. It appears that a certain Sr. Cremonese, who worked for in coffee grinder factory, developed a screw piston that forced water through the coffee in the 1940's. But it was Gaggia who improved upon the method by working out a design that incorporated a spring lever piston in 1947. The basic method is quick and uses finely ground coffee. The extraction level is similar to drip coffee, though the amount of water used is less. The result is a coffee that is rich and flavorful. It can be almost syrupy due to the emulsification of the coffee oils that occurs with pressure.
| | |
| --- | --- |
| | |