Alfi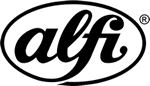 ALFI thermal carafes are ideal for coffee. The timeless design and functionality of these carafes will be yours to enjoy for years to come.
Made in Germany of high-quality materials, the manufacturing process unites the latest technology with traditional handcrafting. The durable twin-walled glass liner has a vacuum between the walls which keeps hot liquids hot and cold liquids cold.
A distinctive way to serve the fine coffee of your choice from J. Martinez & Company, coffee merchants to the cognoscenti.