Coffee Blends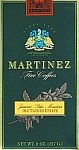 We use the same top-quality premium coffees to formulate our coffee blends that we offer to you as single-estate and specialty coffees.
We roast fresh on the day of shipment. Although we recommend that beans be ground just before brewing, we will, of course, grind them for you if requested.

Decaffeinated Coffees
For those who prefer decaffeinated coffee, we offer nine coffees decaffeinated by the SWISS WATER® process.
The SWISS WATER® logo next to the product description indicates that it is available decaffeinated.