coffees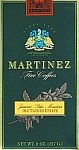 Gourmet Coffees
Estate Coffee
It was John Martinez who first introduced the concept of estate coffee, and this continues to be our focus. The particular region and farm in which the beans are grown has just as much of an impact on the flavor of the coffee as it does on wine, so we have built relationships with growers across the world in order to bring you the best of their crops, including premium
Jamaican Blue Mountain coffee
from both the Wallenford and Clifton Mount estates. We buy directly from the grower to be sure that we are carrying the best coffee available.
↓ Jump to products ↓
Specialty Coffee
When it is not possible to source the coffee to a single estate, we obtain premium coffee beans from specific regions known for their outstanding coffees. These are also known as "straights" or origin coffees. We offer a wide variety of specialty coffees, including many coffees from the Caribbean, coffees from Asia, and a number of African varieties, including
Tanzanian peaberry
and an organic and
fair trade coffee from Ethiopia
.
↓ Jump to products ↓
Gourmet Espresso & Coffee Blends
We have also created our own selection of specialty coffee blends, including breakfast and after-dinner coffees, as well as our award winning Don Giovanni's
Espresso
Bellissimo.

Decaffeinated Coffees
For those who prefer decaffeinated coffee, we offer nine coffees decaffeinated by the SWISS WATER® process.
The SWISS WATER® logo next to the product description indicates that it is available decaffeinated.